U.S. stocks plummeted on the 3rd
I just now watched the news and it said that the stock market plummeted on the 3rd.
Sure enough, let me get it right.
The cryptocurrency plummeted on the 2nd, and also plummeted on the 3rd and 4th, and only stabilized on the 5th today.
Sure enough, the three consecutive days of plunging were affected by the stock market.
But many analysts believe that there will be no more plunge next week, and it should stabilize, because the time for another plunge has not yet arrived.
The Nasdaq Composite Index fell 5% on the 3rd, the S&P 500 Index fell 3.5%, and the Dow Jones Industrial Index fell 2.8%, the lowest day of the three major indexes since June 11.
The 3rd , retracement only brought the S&P 500 index back to the price of last Wednesday. Many analysts believe that this is just the ups and downs of the market.
the 3rd day, fall of US stocks be the beginning of another major decline, just like the bubble of Internet stocks in 2000?
Analysts said that although the US stock market fell sharply on the 3rd, it has not yet reached the point of a crash. Although the US stock market is quite outrageous in many respects, it should not be a crash.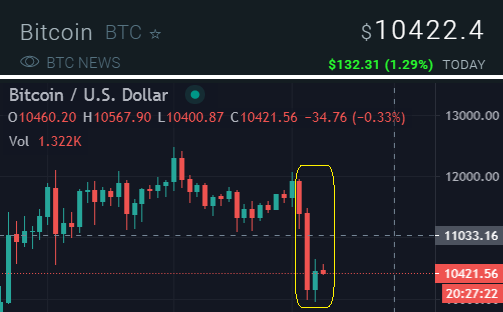 美股在3日暴跌
刚刚看新闻,说股市在3日有暴跌.
果不其然,让我给猜中了.
加密货币在2日暴跌,3日和4日也暴跌,今天5日才回稳.
果然连续3日的暴跌是受到股市的影响.
但许多分析师认为,下周并不会再暴跌,应该会回稳,因为再暴跌的时机还没到.
那斯达克综合指数在3日重挫5%,标普500指数下跌3.5%,道琼工业指数下跌2.8%,是三大指数自6月11日迄今最低的一天。
3日的回档,只是把标普500指数带回上周三的价位,许多分析师认为,这只是行情的起起落落而已。
美股3日的回跌是否会是另一波重大跌势的开端,一如2000年网路股泡沫化?
分析师说,美股3日虽大跌,但是尚未到崩盘的程度 ,尽管美股从许多方面来看已相当离谱,但应还不至于崩盘。